Quiz Nights
If you are a whizz at a quiz night, want to bid at our auctions, have a flutter on a raffle ticket or attend one of our 'An Evening With' talks you are welcome! Our patron Joanna Lumley has often attended these events and we are confident of her support at future engagements.
Come and join us when CHANCE for NEPAL hosts amazing events throughout the year to encourage support and to raise funds for the work we do on the ground in Nepal.
CONTACT US
Chance 100 Club
Members of the CHANCE 100 CLUB have the chance to win cash prizes whilst supporting the work of CHANCE for NEPAL.
How it works
For just £5 per month you become a member of the CHANCE 100 CLUB.
On the 1st Monday of every month the draw takes place at Cranleigh Golf & Leisure Club where three names are pulled out of the hat. The cash prizes are:
1st prize – £120
2nd prize – £80
3rd prize £50
£250 goes out in monthly cash prizes and £250 goes to support our projects in Nepal. The winners are then notified via email or phone – and your cheque will be sent to you directly. Winners' names will be published on our website and also our CHANCE for NEPAL Facebook page –Simple!
£250 per YEAR gives a child in Nepal the chance of an education as a day student (including uniform and lunch), so you can see the real value of joining the CHANCE 100 CLUB!
We look forward to welcoming you to CHANCE 100 CLUB.
CONTACT US
Latest Events
Langstone Creatives, West Sussex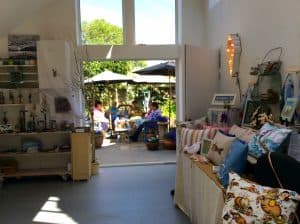 Langstone Creatives near Chichester, West Sussex held a three-day event of local craftsmen and women over the weekend of the 1st July. With over 12 stall-holders, the eclectic group of local designers and makers showed off their fabulous wares, from pottery and silver to wood turning, pictures, lamp shades, jewellery and much more.
Andrea Matthews, a staunch supporter of CHANCE offered to make teas, coffees and cakes for a donation and set about collecting cakes from the local community. Glasses of Prosecco adorned with a raspberry, with a cup cake to boot also encouraged a donation.   Andrea and Steve raised a fantastic £488 for CHANCE from this event.  Thank you to all who baked for us and everyone who contributed by time, donation or both!  A special mention to Joan, aged 86, though looked 68 who made and brought straight from the oven,  24 of the most scrumptious cheese scones ever which were devoured before they made it to the table!
Thanks go to Merlin Inns who donated the Prosecco.