HEALTH is a major project for CHANCE for NEPAL. Preventing accidents in the home, and addressing issues caused by poverty, poor nutrition and lack of health facilities are all in areas which CHANCE does crucial and lifesaving work.
In Nepal, adult life expectancy is only 59 years. 40% of children come from extremely poor families in which 48% of children are malnourished.The mortality rate of children below 5 years of age is 61 per 1,000 births in Nepal. Health is a major project for CHANCE for NEPAL.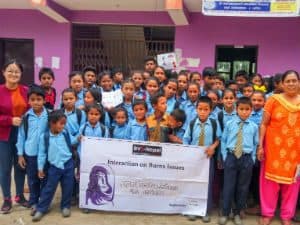 BVS Prevention of Burns
A team from BVS (Burn Violence Survivors) one of our partners on the ground in Nepal went to Dhading in the District of Thakre around 40 km outside Kathmandu Valley to give a presentation on the dangers of burns in the home and workplace. In real time this district takes over 5 hours to reach, first by road, then bumpy track.
The topic was "Raising Awareness on Burn Injury", and this was conducted at the Shree Mahankaleshwori Secondary School. The presentation was given to the teachers, students from Grades 5 to 10 and local workers.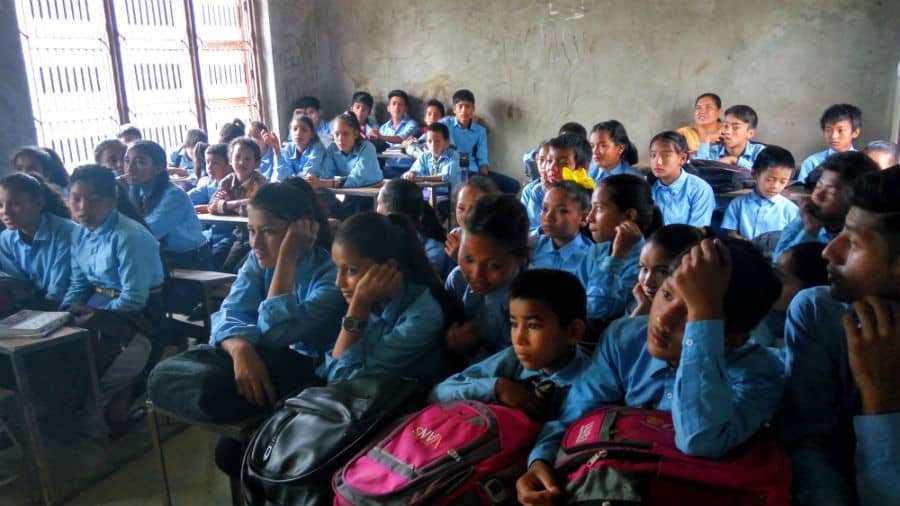 Topics discussed were the type of burn and the causes. Many burns are caused by flame, hot water, naked electric cables, chemicals, open cooking fires and lightning. Many could be avoided with more care and attention and not leaving young children unattended in the home with open fires and cooking pots on stoves where little hands can reach up and spill over the contents. The first and most effective treatment for all burns is the application of cold water. Case studies of burn patients were also shown. This has a big impact and gets the point across.
The feedback to me from BVS was that the presentation was fruitful and effective and the students were most engaged.
There has been a high incidence of burns since the beginning of 2018 in this area. So BVS wished to make the long journey to give their expertise on the dangers of burns in the home and workplace and what to do if a burn occurs.
Leaflets were also given out and hopefully the word spreads via the teachers, workers and students to their families to others in this district.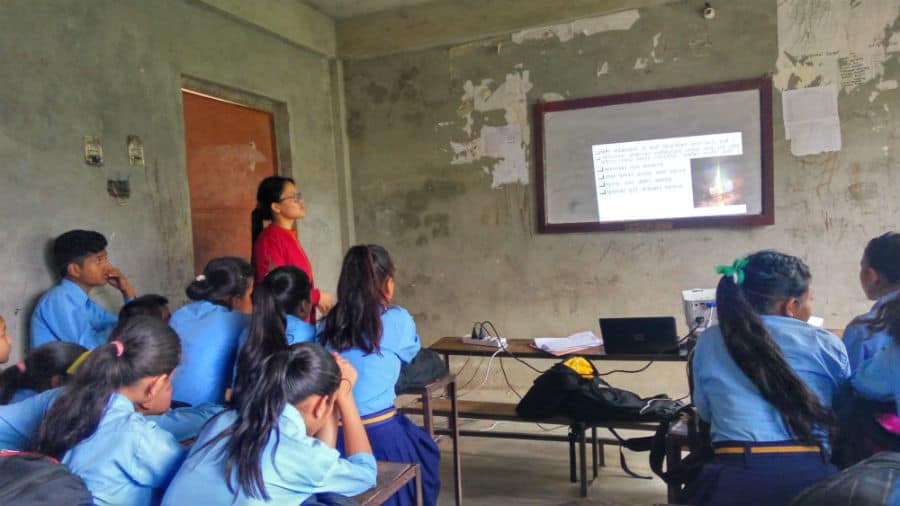 CHANCE works closely with BVS and this is one of many initiatives CHANCE funds for this organisation.
The other preventative measure we fund is a 30-minute, once a month radiobroadcast which goes to 73 of 75 districts of Nepal.
Education and prevention is the key factor in stopping these appalling burns.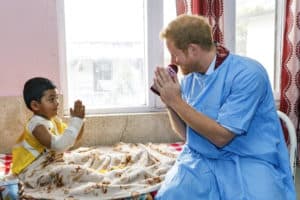 KANTI CHILDREN'S HOSPITAL AND BURNS UNIT (22 beds)
BURNS
In NEPAL, many people cook on open fires, especially in the villages, and incidents of appalling burns in children are sadly a common occurrence: a mother may go outside to get wood or do chores, a boiling pan is left unattended and a toddler wanders over and pulls down the scalding water.
At the Kanti Children's Hospital in Kathmandu, the only children's hospital specifically for children in Nepal, there is a specialist Burns Unit. All children coming to the unit receive a 'goody bag' with fun things inside to amuse them, and a soft, cuddly toy: a CHANCE for NEPAL initiative.
As burns' victims require a diet high in protein to heal, CHANCE for NEPAL funds weekly baskets of protein-packed food recommended by medical staff including a protein complement, glucose, eggs, fruit and juice.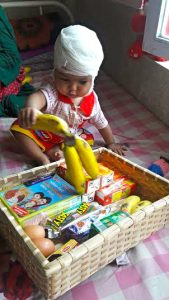 In 2016 CHANCE for NEPAL enabled CHANCE's partner on the ground, Burns Violence Survivors Nepal (BVS Nepal) to deliver 901 such baskets to the Kanti Children's Hospital, 80 to the Trauma Hospital and 130 to the Teaching Hosptial. In 2017 CHANCE estimates that the same number – or more – baskets will be delivered.
CHANCE for NEPAL also funds physiotherapy (to aid patients' recovery) and counselling (for patient and parents who may have to live with permanent disfigurement) at the Kanti Children's Hospital and Teaching Hospital.
CHANCE for NEPAL also set up an Emergency Fund to help parents meet the cost of travel to and from the hospital – and also of food for the relative staying with their child. This is used at the discretion of the experienced team at BVS who assess the financial needs of the family.
TEACHING HOSPITAL & TRAUMA HOSPITAL (8 beds)
Here CHANCE for NEPAL provides funds for skin graft operations; physiotherapy six days a week; a weekly high-protein, nutritional food basket for each patient; specialized creams and bandages; three counsellors four times a week providing ongoing psychological help to patients and their families; and emergency help for the family including medicines, transport and food.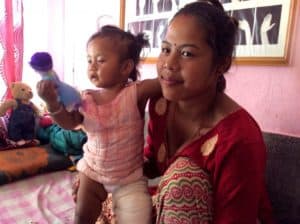 THE HERROD FOUNDATION
Through CHANCE for NEPAL The Herrod Foundation has been giving generous support for over 8 years and funds up to 35 skin graft and debridements each year along with medicines and emergency care at both the Kanti Children's Hospital and the Teaching Hospital.
TRAINING AND EDUCATION
RADIO CONTACT
An exciting new initiative for 2016 is providing training in the prevention of accidents in the home. A radio programme, funded by CHANCE for NEPAL, is transmitted from The Teaching Hospital and interviews doctors, plastic surgeons, the head sister of the Burns Unit, parents and the patients themselves: children who have experienced terrible burns. The doctors advise on ways to stop such accidents occurring. This vital, half-hourly programme goes out once a month and was the initiative of BVS in Nepal and ACORAB Community radio. The programme will reach  73 of 75 regions through a network of 200 community radio stations throughout Nepal.
In the remote villages of Nepal, most of the villagers depend on radio to keep in touch – and so most families will be tuning in!
HEALTH POSTS
DHUBICHOUR
Since the 2015 earthquake, GMIN has built many homes, shelters and schools in remote areas. One example is the new health post in Dhubichour, 450km from Kathmandu which opened in 2016 and is attended by a visiting doctor and two resident nurses (one being a midwife). CHANCE for NEPAL funds the costs of running the health post – which will benefit 2,500 people – including all medications, vaccines, a computer for the data to be collected and a printer.
In 2017, in the remote area of Surkhet CHANCE aims to cover the cost of building a new health post and meet the running costs through GMIN.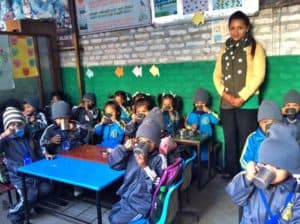 HEALTH IN SCHOOLS
TRIPLE GEM AND SHREE SECONDARY
CHANCE for NEPAL extends its work to improve health in schools, where nutrition for the very young is vital. For example, a daily cup of milk given to pupils in the lower school at Triple Gem School and a 'Tiffin' meal at Shree Secondary School in Chitwan.
---