In schools supported by CHANCE for NEPAL, children taking their School Leaving Certificate have a 95%+ pass rate. Only 51% of children here complete primary level schooling. The national literacy level  is 45%.
Education is a major project for CHANCE for NEPAL because the standard of teaching in many village schools is poor with only 10% or fewer attaining their School Leaving Certificate. In schools supported by CHANCE for NEPAL in Kathmandu, children taking their SLC have a 95% or higher pass rate.
While 80% of children (86% boys and 74.6% girls) are admitted to school, only 51% complete primary level and the national literacy level stands at 45%. Out of the total population of 25,371,000, 41% are children below 16 years of age.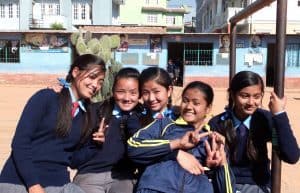 Chance for a future
CHANCE for NEPAL's main education projects take place in four schools: TRIPLE GEM SCHOOL – PEGASUS ENGLISH SCHOOL – SHANGRI-LA SCHOOL all which are in Kathmandu, and at SHREE SECONDARY SCHOOL in Chitwan, 120k south of Kathmandu.
CHANCE for NEPAL will continue to monitor improvements in children's early learning. Because parents and the children themselves are very aware that they have a chance of a better life with a good education, the classes are full to bursting and the children REALLY want to learn and work hard!
College Fund
CHANCE for NEPAL's College Fund allows children who have no parents, or whose parents cannot afford college fees, to continue their education. Less able children are offered vocational skills training. Currently, we have seven students at College (five in their second year and two in their first year) who are funded through CHANCE.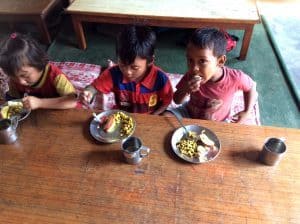 Food and drink at school
As well as funding schooling directly, CHANCE for NEPAL's other EDUCATION projects include providing milk for pupils in the lower school at Triple Gem School and a 'Tiffin' meal (school lunch) for the youngest students at Shree Secondary School in Chitwan. Many children walk long distances in their journey to and from school. A nutritional 'Tiffin' meal greatly improves the children's concentration and learning power, so they achieve higher levels in class.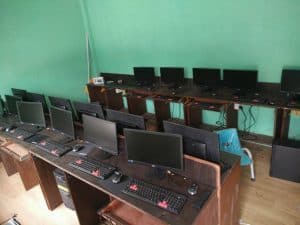 Equipment and Classrooms
Funds from CHANCE for NEPAL have provided 28 computers and screens at Pegasus English School and Triple Gem School.
At Pegasus English School which was damaged in the 2015 earthquake CHANCE has provided funds to build a new wing which contains two new classrooms: one a computer lab; the other an all-purpose classroom with added storage room.
CHANCE provided two Volleyball Courts for the students at Shree Secondary School in Chitwan.
CHANCE has also provided two heavy-duty generators to keep power during lessons (electricity is regularly lost, often for 6 hours per day) at two schools, and four semi-permanent classrooms at Triple Gem School.
Teachers and Training
Encouraging and motivating teachers to stimulate and tap into the child's imagination helps the process of learning and provides the building blocks to a brighter future.
CHANCE for NEPAL has funded GMIN's 5th Teacher Training Workshop which took place in the remote area of Babiyachour, Surkhet and invited 19 teachers from 13 schools, targeting teachers from Nursery to Grade 3 in English.  The teachers in these government schools have basic levels of teaching skills. Two further workshops are planned during 2017.
CHANCE for NEPAL also funded a seven-day workshop in creative teaching techniques led by a team of Teacher Trainers to encourage and motivate the teachers at Pegasus English School and Triple Gem School both in Kathmandu.