Helping some of the 5,000 street children of Nepal is a major project for CHANCE for NEPAL. The sight of a group of youngsters sniffing glue on the streets is commonplace and heart-breaking.
Street children in Nepal are driven to live on the street because of poverty, family size or breakdown, migration from country to town, or neglect and abuse. In Nepal there are over 5,000 street children: many sniff glue and tourists often misguidedly offer them money.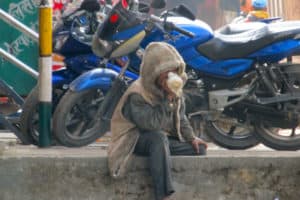 WEGAIN ZONE
WEGAIN ZONE is an eco-friendly site built mostly using mud, bamboo, bottles and tyres. WEGAIN ZONE provides living space to former streetchildren and trains them in a skill so that they can sustain themselves in future.
WEGAIN works with the street children in the Boudhanath area of Kathmandu. They offer counselling, and take children found on the streets to different organisations in the Kathmandu Valley specializing in substance abuse.
WEGAIN also lobbied to get the sale of adhesive glue to under 18s banned – and were successful in October 2016. WEGAIN is also at the forefront of campaigning and raising awareness of the dangers of burning toxic plastic and throwing garbage on the streets.
CHANCE for NEPAL has donated funds to WEGAIN to help get adhesive glue off the streets.
WEGAIN is seeking to develop an app so that when tourists see street children sniffing adhesive glue they can send the photo immediately to WEGAIN who will have the manpower to act immediately.
CHANCE for Nepal has also funded a hot water geyser to provide a hot shower for the children who come to WEGAIN. There is also a new Badminton net post and racquets for the boys to use and enjoy, funded by CHANCE.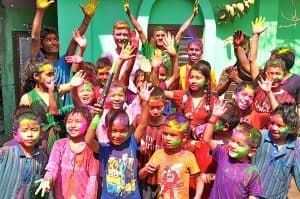 PAPA'S HOME
PAPA'S CHILDREN's HOME was founded by Lalit Shahi for 24 children aged between 6 and 16. Many of the children at Papa's have been there since Lalit started the home in 2011: they may have no one else to look after them, perhaps they are orphans, or maybe their parents live in remote areas and cannot cope.
Lalit and his wife Dhanusha provide a loving, caring environment for all the children. CHANCE for NEPAL pays for all food at PAPA'S CHILDREN's HOME and has recently increased funding for the food programme to make sure the children are given eggs, milk and meat several times a week. This is our fifth year of supporting Lalit and the wonderful 'family' – all 24 of them at Papa's Children's Home.
CHANCE for NEPAL sponsors one of the children directly and also funds a fun monthly activity programme for the children: trips to the cinema, the zoo or a museum, or a swimming outing or an all day picnic.
Other CHANCE for NEPAL projects at PAPA'S HOME include the installation of solar panels enabling the children to have hot showers, and new beds and mattresses and a high powered generator. These were funded directly from one of the popular CHANCE for NEPAL Charity Quiz Nights, held in the UK.