CHANCE for Nepal funds 1000 rabies vaccinations for stray dogs annually.
Rabies vaccinations are a major project for CHANCE for NEPAL because each year in Nepal, where over 25,000 stray dogs wander the streets of the Kathmandu Valley, approximately 16,000 people are treated for dog bites and as many as 200 die an excruciatingly painful death from rabies. Many of those bitten are children who have not learned to be wary of the dogs or to treat them with respect.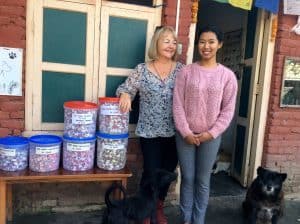 1000 rabies vaccinations for stray dogs in the Bungamati, Boudhanath and Kopan areas of Kathmandu Valley are funded by CHANCE for NEPAL annually. These vaccinations are carried out by Street Dog Care, volunteers and veterinary personnel.
We have supported Street Dog Care for over 7 years in their bid to eradicate rabies from Boudhanath and the surrounding areas in Kathmandu.
Street Dog Care
Street Dog Care aims to improve the health and living conditions of street dogs in Nepal, creating a healthier environment for everyone. Their effective programme of education warns children not to play with stray dogs.
CHANCE also funds the printing of 2,500 leaflets as well as posters which are distributed in schools and given to parents and posted in the community.