BURNS
In NEPAL, many people cook on open fires, especially in the villages, and incidents of appalling burns in children are sadly a common occurrence: a mother may go outside to get wood or do chores, a boiling pan is left unattended and a toddler wanders over and pulls down the scalding water.
At the Kanti Children's Hospital in Kathmandu, the only children's hospital specifically for children in Nepal, there is a specialist Burns Unit. All children coming to the unit receive a 'goody bag' with fun things inside to amuse them, and a soft, cuddly toy: a CHANCE for NEPAL initiative.
As burns' victims require a diet high in protein to heal, CHANCE for NEPAL funds weekly baskets of protein-packed food recommended by medical staff including a protein complement, glucose, eggs, fruit and juice.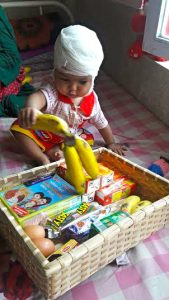 In 2016 CHANCE for NEPAL enabled CHANCE's partner on the ground, Burns Violence Survivors Nepal (BVS Nepal) to deliver 901 such baskets to the Kanti Children's Hospital, 80 to the Trauma Hospital and 130 to the Teaching Hosptial. In 2017 CHANCE estimates that the same number – or more – baskets will be delivered.
CHANCE for NEPAL also funds physiotherapy (to aid patients' recovery) and counselling (for patient and parents who may have to live with permanent disfigurement) at the Kanti Children's Hospital and Teaching Hospital.
CHANCE for NEPAL also set up an Emergency Fund to help parents meet the cost of travel to and from the hospital – and also of food for the relative staying with their child. This is used at the discretion of the experienced team at BVS who assess the financial needs of the family.