Nepal Trip – November 2016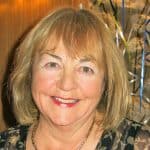 Barbara Datson, Founder and Trustee CHANCE for NEPAL
Visiting the new Health Post in Dhubichour
My visit to the new health post in Dhubichour with Lobsang Sangbo (from our partner GMIN) was a highlight for me. Leaving Kathmandhu behind and travelling to remote regions of Nepal was an eye opener. Seeing the mothers and their children queuing up to see the visiting doctor and nurses in attendance, and being amused by the curiosity of some patients waiting outside to know what was happening in the surgery, so coming in to check, was lovely to capture the spirit of it all.
Visiting Schools
Whilst in Dhubichour we also visited the village school, where Lobsang Sangbo (GMIN) and I handed out 48 goody bags to the children in the lower school. We filled each bag with a towel, comb, toothbrush, toothpaste, soap, children's stickers, and of course, no goody bag would be complete without a lovingly made knitted doll!
We also visited a secondary school nearby where the parents, with help from the government and fund raising themselves had built a concrete, earthquake safe library. There were only around 15 books on a table, so I seized the chance to make it happen and we donated £250 for steel racks and books.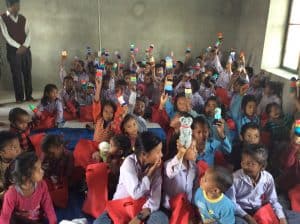 Triple Gem and Pegasus English schools
The children at Triple Gem School and Pegasus English School are always a delight to see and I was given a warm and enthusiastic welcome. I have got to know so many of the students over the past 12 years we have been supporting the schools either by educational sponsorship or on general visits.
I enjoyed seeing all the colourful wall pictures and 3-D pictures of animals hanging from the classroom ceilings which was part of the creative teacher-training programme in 2016. The children love to see their work being displayed. I enjoyed sitting in on lessons and taking part in a computer class where we have funded 18 new computers and screens for the new computer lab.
The senior students at Pegasus English School invited me to watch some outdoor science experiments which went off with a pop – fizz and bang to their delight.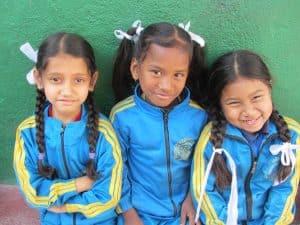 Shree Secondary School, Chitwan
My annual visit to Shree Secondary School, Chitwan, 150kms outside Kathmandu Valley is always a great pleasure. At the government school we have funded a 'Tiffin' meal Programme for 42 children in the nursery and kindergarten classes for the past four years. This year we also donated £500 for sports equipment, which provided two Volley Ball Courts with posts and nets and 16 racquets as well as a table tennis table. During my day at the school, I was delighted to see that these courts were in constant use giving the children exercise and great enjoyment.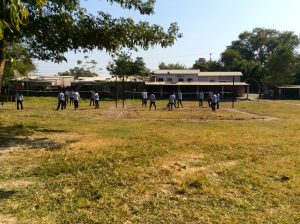 Seeing New Homes in Dhola
I made my first visit to Dhola where SHENPEN (our partner on the ground) is building 55 earthquake-safe homes for this community after their village was destroyed in the 2015 earthquake. It took Melanie (SHENPEN's director of Programmes) and me over four hours to reach the village: the last hour was a hairy experience off road in a 4×4 jeep! The homes will be finished by the spring of 2017. I found the community's spirits high: they watch day by day as their homes are nearing completion and they work over 12 hours a day, both men and women to achieve this goal. Inspiring indeed!
I took toothbrushes, dolls and children's stickers with me to the delight of the children.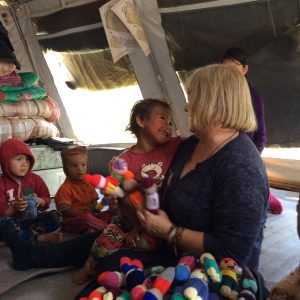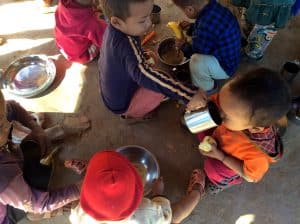 At Kathmandhu at Kanti Children's Hospital
On my visit to Kanti Children's Hospital with Laetitia from Burns Victim Survivors(BVS) who monitors the projects we support at the Kanti, I was invited to take part in one of the new radio broadcasts transmitted throughout Nepal to help prevent accidents in the home – I was proud to be part of such an exciting and groundbreaking educational initiative by BVS. I spoke about our involvement and how CHANCE continues to help these children by providing weekly food baskets, a 'goody' bag for every child coming onto the unit and counselling for the children and their families as well as funding for skin graft operations.
Afterwards I helped deliver the weekly food baskets to the children and spent the morning talking to parents through a translator and staff members. So many children, so many tragic cases, all heart breaking, yet there was an uplifting feeling in the unit. The dedicated staff are superheroes.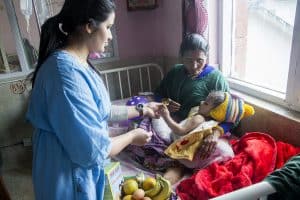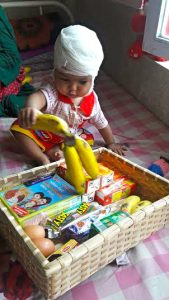 Seeing the work of Street Dog Care (SDC)
There were over 20 dogs in the centre on the day of our visit. The staff are so dedicated which means the dogs are so loved and taken great care of. One dog was blind and growled all the time with anxiety from being attacked and bitten by other dogs.
This happened before he was rescued. It was so sad to witness. Another dog, whose back legs were paralysed in a road traffic accident had a frame fitted round his girth with two wheels attached acting as his back legs so he could get around.
SDC are moving to another location in spring 2017. Many visitors from abroad who hear about the wonderful work done by the centre – and who are moved by what they see and read – end up adopting one of the dogs for a new life in their own country.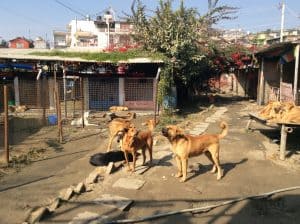 My Trips to Papa's Children's Home
I made several trips to this special place. Over many years of support from CHANCE for NEPAL I have watched as the 25 children have grown up into polite and caring young adults. They are a credit to Lalit and Dhanuska.
One a bright morning at 8am we set off to the cinema to see a Hindi film. All the children were so excited to be with me and with cartons of popcorn took their sets and were glued to what I thought was rather a sad film – with lighter moments! Lalit's daughter Pratima sat next to me and with her excellent English filled me in on the details. I seemed to be the only one leaving the cinema in tears after the mother died at the end of the film!
On another occasion I had a fun afternoon playing table tennis with the children who are all keen to show me their skills – JP's slow mean spinning serve, impossible to return, and Maan managing to get balls flying off the edge of the table ensured great hilarity.
If you would like to make a donation to Chance for Nepal simply click below to view the different donation options available.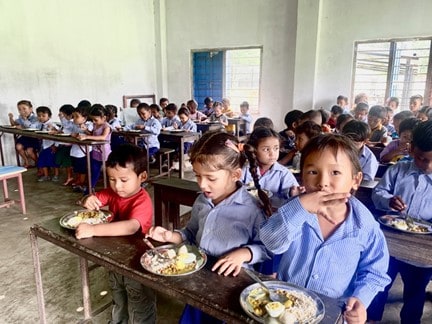 Read Chance for Nepal's  Summer Newsletter 2023 Click here to read or download
Read More »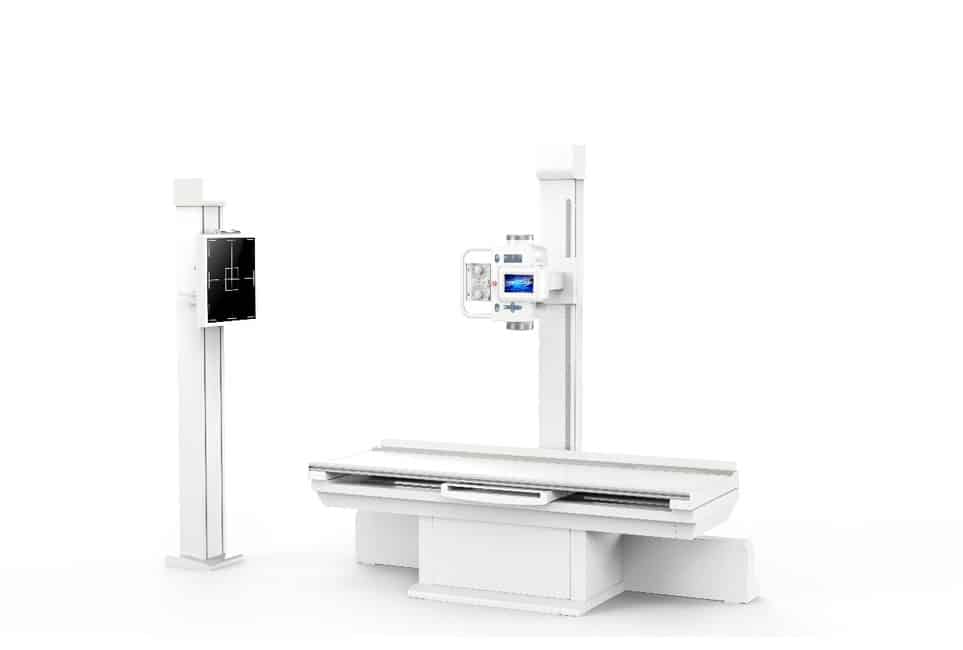 We are delighted to share that our on-line auction raised £15,110 and will go towards a digital x-ray machine for the new Siddhasthali Rural Community Hospital in Hetauda. We had 16 auction lots, including the
Read More »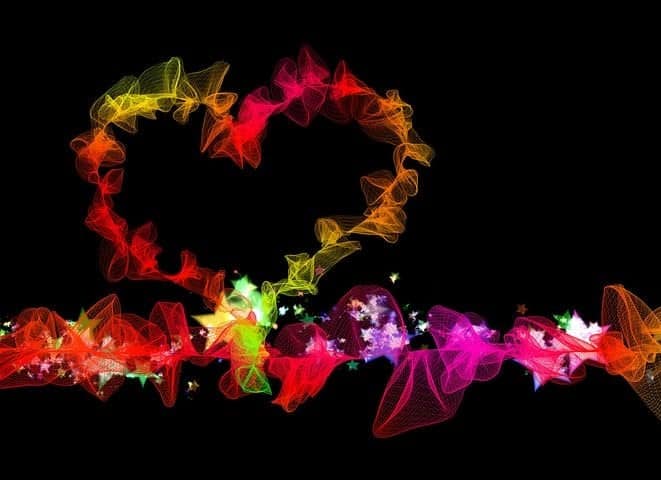 I am humbled by your kindness, generosity and love to our Nepalese programmes. May I wish you all a happy and peaceful Christmas and may 2023 bring good health, peace, happiness and hope across the
Read More »